Access to Isehara by Train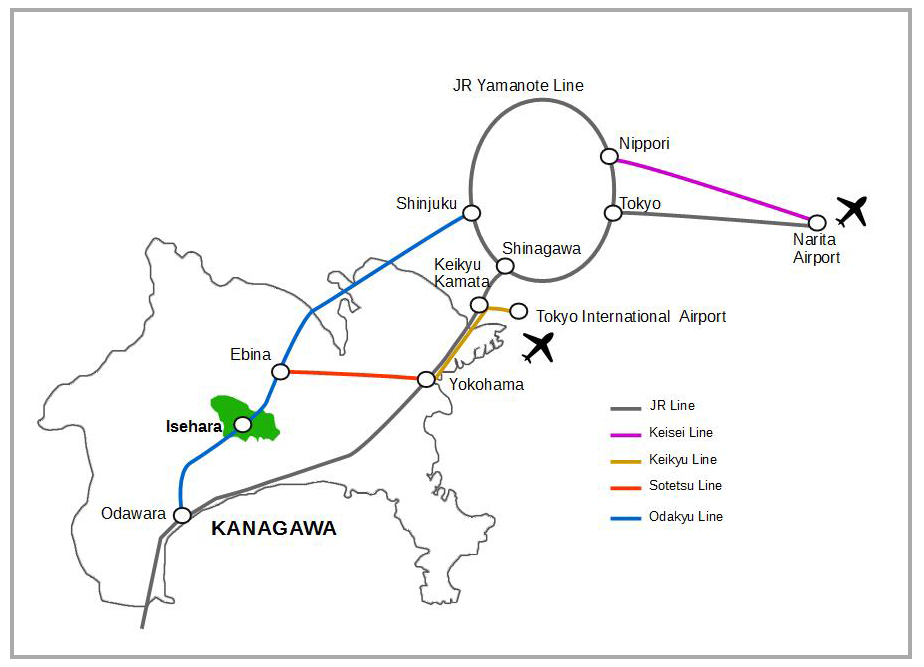 From Narita Airport
Keisei line (40 minutes) Narita Airport station(terminals 1 or 2)→ Nippori station  
Yamanote line (in the Ikebukuro & Shinjuku direction, 20 minutes) Nippori station → Shinjuku station  
Odakyu line (Odawara direction, 55 minutes) Shinjuku station → Isehara station
From Tokyo International Airport
Keikyu line (30 minutes) Haneda Airport station (domestic or international terminals) → Yokohama station  
Sotetsu line (30 minutes) Yokohama station → Ebina station  
.Odakyu line (Odawara direction, 11 minutes) Ebina station → Isehara station
Access to Isehara by Bus
From Narita Airport
Kanachu Bus (Airport Limousine Bus, Tamura shako/ Hon-Atsugi direction, 145 to 155 minutes)
Narita Airport (terminals 1, 2 or 3) → Hon-Atsugi
Odakyu Line (Odawara direction, 8 minutes)
Hon-Atsugi station → Isehara station
From Tokyo International Airport
Kanachu Bus (Airport Limousine Bus, Tamura shako/Hon-Atsugi direction, 65 to 90 minutes)
Haneda Airport, international terminal or terminals 1 or 2 → Hon-Atsugi
Odakyu Line (Odawara direction, 8 minutes)
Hon-Atsugi station → Isehara station
Access to Oyama from Isehara
Exit Isehara station on the Odakyu line through the North exit.  
From bus stop number 4, take the bus going to the Oyama Cable terminal, about a 30-minute ride.  
Then it is about a 15-minute walk (Koma sando) from the Oyama Cable terminal bus stop to the cable car station.
The Tanzawa-Oyama Freepass covers a wide range of transportation such as the Odakyu line, Kanachu bus and Oyama Cable car.